There had been murmurings in the last couple of weeks – completely unjustified in my opinion – that perhaps our promising young gaffer had been found out and was struggling to find a Plan B.
After the euphoria of victories over Sheffield United, Peterborough and MK Dons upon his arrival, the wins had dried up and there was talk of us – again totally absurd for me – reverting back to the dark, pre-Christmas days of Peter Taylor.
Today Justin Edinburgh put those accusations to bed in the best possible way.
Over the last seven days he has spoken of giving everybody a chance between now and the end of the season, with somewhat mixed reactions from the fans.
His decision to rest goalkeeper Stuart Nelson in favour of Glenn Morris – who has done nothing wrong every time I have seen him play – was questioned by plenty, but four points from six available with him in goal has already answered any critics.
Morris has helped his side collect four points from a possible six.
He also spoke in the week of needing to find different ways to win games at home against teams intent on overloading the midfield and parking the proverbial bus.
Well today he again showed that he can mix things up to win games away from the MEMS Priestfield.
The diamond formation was dropped in favour of a more fashionable 4-2-3-1, with Jermaine McGlashan, Bradley Dack and John Marquis supporting lone striker Luke Norris.
Crowd favourite Cody McDonald was given a breather (Justin isn't fond of using the term dropped), and with Doug Loft and Aaron Morris protecting the back four it gave the others license to go and create in dangerous areas.
Now we weren't at the game unfortunately, but from all the reports the first period was as one sided as could be, and the Gills lead at the interval through a well-crafted Dack strike.
In the second half the inevitable response came from the home side, but after conceding an equaliser the boys in blue regrouped.
Cody was introduced to once again give us more attacking impetus with two out and out strikers rather than just one, and we deservedly scored a very good winner courtesy of a Jermaine McGlashan header.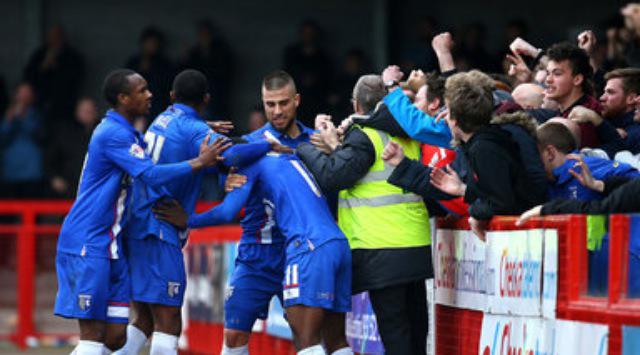 Another game at Crawley, another McGlashan goal, another victory.
Once again Edinburgh was bright enough to sense the game situation, so he managed it accordingly, with Marquis making way for Brennan Dickenson as we looked to hold what we had.
Back to a lone striker, we beefed up the middle area and saw out the game to claim a massive three points.
Perhaps the wins against the big guns early in his reign saw some jump the gun regarding our expectations for the remainder of the campaign.
And perhaps when performances or results dropped off slightly some were equally hasty to question the ability and know-how of the man in charge.
Now there lies the difference between thinking you know and actually knowing.
That is why he is coaching the football club that we all love so dear, and we are merely supporting and talking about him.
And he does know what he is doing, so let's give him credit for that and trust him to continue his good work.
UP THE GILLS!!!