With the new season now only two and a half weeks away, fans and pundits up and down the land will be starting to predict who will finish where during 2015-16.
They will all have an idea as to who they think will excel and who will struggle after another nine months of thrills and spills.
Predicted tables will be published by every newspaper, magazine and website.
So where will the Gills end up next spring?
Here at RainhamEndViews we have taken a look at how we are progressing so far during pre season, and how any new additions seem to be settling in.
With only four pre season fixtures played so far, it is hard to use results during early summer as a gage to where a team may finish in the league next May.
Wins versus the likes of Folkestone, Tonbridge Angels and Bromley don't mean we will win the title, in the same way that a defeat to a third tier French outfit doesn't mean we will be entrenched in a relegation battle.
Winning obviously breeds confidence and builds momentum, but these games are more about gaining fitness and integrating new signings into the group.
So what of Justin Edinburgh's new additions to date?
It was clear from the back end of last term that he felt the area that needed the most work was defence, and he has worked diligently in securing what currently look like very astute signings.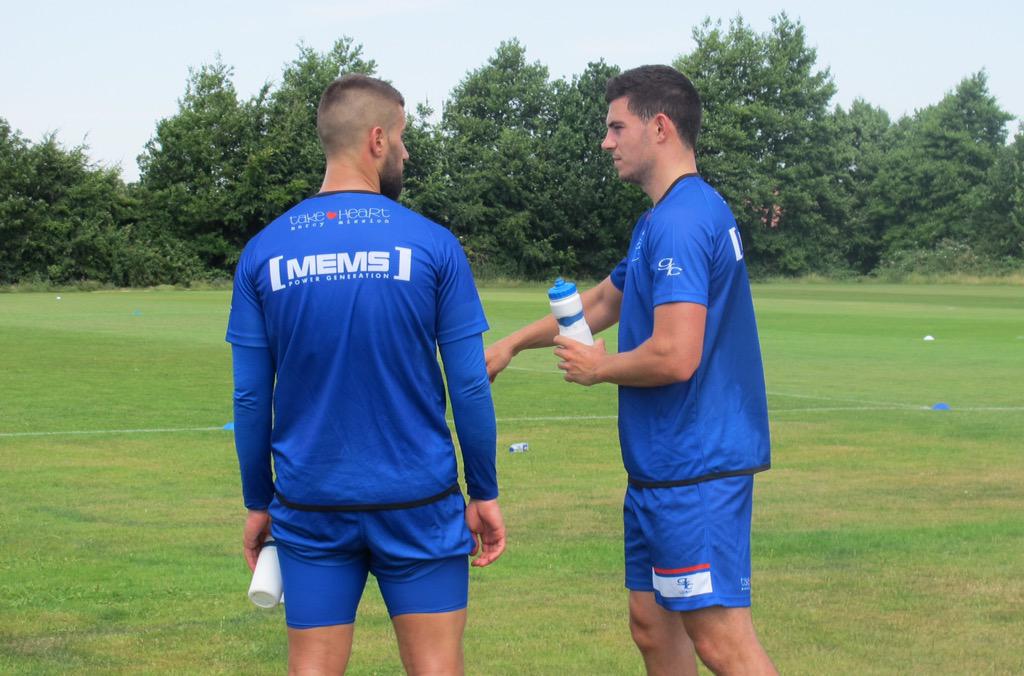 John Egan was very vocal in his support of Max Ehmer returning to Gills permanently.
We all know the capabilities of both Bradley Garmston and Max Ehmer from their loan spells in Kent last season, but it nonetheless still a pretty big statement in securing them both – when in my opinion they could easily have joined a Championship side – on long term contracts.
Bradley Garmston feels the love after netting versus MK Dons last season.
No disrespect to the players they replaced, but it is abundantly clear they are both a step up on the two men they have replaced, Joe Martin and Leon Legge.
On the opposite side of the pitch Edinburgh clearly didn't feel that Gavin Hoyte – who by no means disgraced himself during 2014-15 – was the correct man long term, and he was quick to secure Ryan Jackson on a free transfer from his former club Newport County.
From early viewings of him, he will bring both pace and athleticism to the table, but it is obviously far too soon to be making a proper assessment of him.
Ryan Jackson teams up with Justin Edinburgh for a second time.
What is promising though is Edinburgh will know him inside out as a player and a character, and also that Jackson wanted to come and play for Justin again, judging by the fact that he turned down the offer of a new contract at Rodney Parade.
The most recent new face is Chelsea Under-21 skipper Jordan Houghton, who has arrived on loan until January.
Again we can so far only judge him on pedigree (Houghton put in a promising shift during tonight's win at Bromley, impressing offensively and defensively for an hour on debut according to reports) but that pedigree does seem to be pretty good.
Jordan Houghton arrives with a very good reputation at Chelsea.
He has recently been handed a new three year deal by his parent club, and joined the first team squad on their recent pre season tour of the Far East.
In the attacking department Edinburgh has brought in two new faces to challenge Cody McDonald and Luke Norris for a starting spot after missing out on known summer target John Marquis, who stayed with his parent club Millwall after a successful loan stint last season.
Ben Williamson was the first to arrive, the big centre forward joining on a two year deal after turning down terms at his old club Port Vale.
Although not the most prolific with the Valiants, Edinburgh has again done his homework, and early signs are that he is pretty quick, will hold the ball up, work the channels and link the play.
Ben Williamson: Netted against the Gills last term before joining this summer.
If he can also chip in with a few goals then he could become a very clever signing, and he got off the mark for the club during tonight's 2-1 friendly victory at Bromley.
Along with Williamson, Rory Donnelly has also come in, and it didn't take him long to make a good impression, taking just 26 minutes of his debut at Folkestone to open his account with a smart finish.
From Northern Ireland to Kent via Wales – Rory Donnelly.
The young Irishman was highly sought after as a youngster, with both Everton and Liverpool interested before he decided to join Swansea, so it will be great if Edinburgh and his coaching team can coax out the potential that is clearly there.
On top of these, the club have also added youngsters Elliot List and Emmanuel Osadebe from Crystal Palace and the Tottenham Hotspur academy programme respectively, and while List has not been seen a lot in the first team, Osadebe has made an immediate impression during pre season.
So much so that Edinburgh has already spoken of potentially fast tracking him into the first team squad.
Osadebe has hit the ground running since arriving at the club.
Obviously we will not know how far this current crop of players can go until we get into the hustle and bustle of a league campaign, because as we have already mentioned these friendly fixtures have little bearing on where a team will end up in the final table.
However, if we can improve defensively on last season – and the early signs are promising with the additions of Jackson, Ehmer and Garmston plus Callum Davies coming back to full fitness – and can carry on with the same momentum that we finished last term, then the squad definitely has the potential to go far.
Good tests will arrive at the Priestfield early on in the campaign as both Sheffield United and Wigan Athletic visit, but judging by the results Justin achieved versus the 'big teams' after taking over in February, they should hold no fear for the boys in blue.
We are a long way from finding out which teams will come of of the League One pack and challenge for glory next spring, but the early signs from our point of view are very promising indeed.
Regarding the remaining friendlies, I believe the Brighton and Portsmouth games will give not only Justin and his staff, but also the supporters, a clearer idea of how much we can start believing.
When the season gets underway in earnest though, start well and who knows?
UP THE GILLS!!