On the back of what has been a rather disappointing week or so for us Gillingham fans, there were certainly some hot topics of conversation floating about on social media.
Therefore, we decided to ask four Gills fans – Mike Gammon, Reece Heard, Thomas Jasper & Zach Garrard – what there thoughts were on varying subjects regarding the Gills.
1) What's your take on the Doug Loft debate? Clearly a good player but does he suit Justin Edinburgh's high energy pressing game?
MG: The Doug Loft situation is interesting. Most of me would like to see Doug stay because he is good player. However, because of JE's style I find it difficult to see him staying because a player of his standard deserves solid game time in his natural position. What may be best for the club to add flexibility to areas where we could end up short through injuries and suspensions, may not be best for Doug Loft.
RH: Does he suit our pressing game? Probably not, but then as a collective we haven't been applying that game as effectively in recent weeks. In fairness to him, I think he has been one of our better performers over the last month, and was one of very few to emerge from the Yeovil game with any credit.
Doug Loft – certainly a good player, but does he suit the Gills way?
TJ: Doug Loft is exactly the player we currently need. I think he has revelled in his role as skipper since Justin arrived at the club and is a big part of our midfield. You don't want every player to be the same type as they cancel each other out, and Loft is vital to a successful season.
ZG: I like Loft, and think he is one of our better passers of the ball, but I think he struggles when we play without wingers. His lack of pace then becomes an issue and leaves us exposed in wide areas.
2) Has Ben Williamson been given a fair crack of the whip since joining?
MG: Every player says they need game time to start producing, but you have to draw a line somewhere. Sadly, Williamson's struggles are magnified by others playing so well in that position. We have to remember Donnelly's purple patch came from nowhere, so perhaps Ben just needs a little luck to get something rolling.
RH: Yes, he is just sadly not good enough. After six starts I cannot think of a contribution of any real note. He is frustrating to watch; doesn't jump for headers and just does not look like scoring a goal. I cannot work out what type of forward he is meant to be.
Willo – not had many chances, but has he done enough when given an opportunity?
TJ: He hasn't no, but similarly to Luke Norris last term he is in a catch 22 situation. You cannot expect him to pull up tress in ten minutes or so here and there, but on the flip side he hasn't done enough when a chance has come his way. Most worrying for me is he seems to disappear too often.
ZG: From what I have seen so far he does not seem to be the striker we crave. However, with a run in the side he may pick up and prove his worth.
3) Having lost to Walsall, Stevenage & Yeovil in the last ten days, is it just a blip or the start of crisis?
MG: I certainly hope its just a blip, but it could escalate if Justin doesn't install the belief to turn things around. Coming from behind is one thing, but losing three on the spin is completely different and requires a certain mentality to halt it. The players have enough talent, so let's hope it doesn't affect them too much.
RH: Any team in the game can lose three on the bounce, so at the moment it is a concern rather than a crisis. Performances levels have certainly dropped off, and we are currently not getting the lucky breaks. However, we now have virtually a full squad available, so I am confident that the players, along with Justin, will soon be back on track.
Stevenage away – hopefully part of a blip rather than something more catastrophic.
TJ: It is, for me, just a blip caused by our own success, because good performances and results bring expectation. The two cup reversals worry me a little, but apart from that we have generally shown good character, so I am sure we will be back on the proverbial horse soon enough.
ZG: As has been said repeatedly, we were and still are massively over achieving considering our squad size and budget. The run up to Christmas will perhaps give a better indication of where we may end up, but the Play-Offs have to still be the aim.
4) How big a miss has Luke Norris been since getting injured?
MG: I am a big fan, and think he has taken some unfair stick. Hopefully those who have booed him now realise how important he is in that role, and how pivotal he was to our early season success.
RH: A lot bigger than anyone could have envisaged. He is never going to be a prolific centre forward, but what he does do is put himself about and occupy defenders. With him in the side space was created for others such as Rory Donnelly and Bradley Dack, and since his injury it is no surprise for me that their form has dropped slightly.
Luke Norris – fast become an example of 'you don't know what you've got until its gone'.
TJ: A bigger miss than people originally realised, and even the doubters seem to be realising his importance now he is absent. Luke has great potential but sometimes gets accused of having a 'lazy' style of playing. He and Rory were building a good understanding before his unfortunate injury, which is a shame because – for all their ability – Donnellly and Cody are too similar.
ZG: I am not a massive fan of Luke Norris, but I have to say we do need to bring in a big striker while he is absent. At the moment the ball just doesn't seem to be sticking up top.

5) Now the dust has settled, will the two cup exits be a benefit to us in the long run as the season progresses?
MG: I think we have to tell ourselves that in order to feel better about the exits, but yes it now gives us focus to be aiming for just one thing, the only thing.
RH: For me the JPT was winnable, and now seeing how the FA Cup draw panned out makes that exit even more frustrating, as there was a good chance to reach round three. However, we do have one of the smallest squads in the division, so less games will hopefully mean keeping our players fit for the league.
TJ: We won't be in any danger, and I also don't think we will go up, so a nice cup run would have been very nice. However, in time, I think we will get over it and enjoy a relatively successful campaign, and building on the previous season will be success in my eyes.
ZG: I like the FA Cup and think that it is always a great chance to bring in extra revenue and put the club on the map in terms of attracting players. Everyone loves a big game against a massive club, and with games played at the weekend I do not think it would have been any hindrance to player fitness. The JPT, on the other hand, is a pointless trophy in my opinion, so I am not worried about being knocked out of that.
6) Which Gills player(s) have impressed you the most this season?
MG: Stuart Nelson has been superb, showing great character in turning his situation around and proving Justin wrong, Bradley Dack was instrumental in our early season form with his goals and influence from midfield, and John Egan is for me the best centre half we have had in a good few years, probably since Simon King. His goals make me love him just a little more.
RH: I think the reason we have got to 3rd in the table at this stage is more to do with how we have performed as a team, rather than as individuals. Bradley Dack clearly started the campaign in superb fashion, but Josh Wright has also impressed me immensely. He has such a good football brain, and he always keeps the ball moving.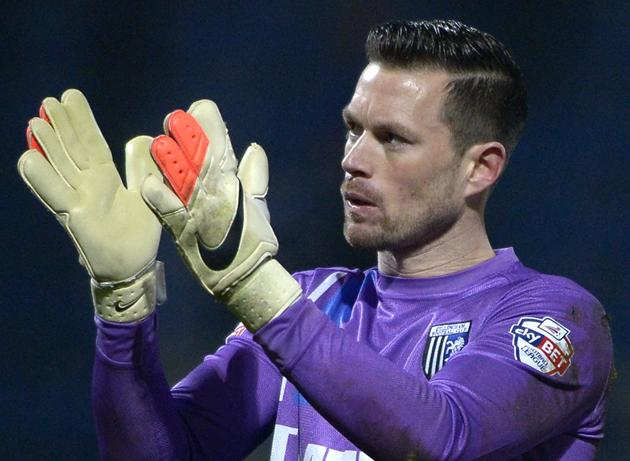 England's Number One – 'Nels' has been superb since regaining his place.
TJ: Both Ryan Jackson and Brennan Dickenson really impressed me at full back at the start of the season, along with Josh Wright in midfield. The likes of Bradley Dack and Rory Donnelly have both had their moments but have fallen away recently, so I would have to plump for Jackson and Wright on the whole.
ZG: The whole squad has impressed me all season in all honesty, but there are special mentions for a few. Stuart Nelson has been a revelation since winning his place back and has cut out the mistakes of last season. I love Rory Donnelly for his goals, his work rate and his willingness to play anywhere, but I do think he is wasted somewhat out wide. And then Bradley Dack, who has really kicked on to another level. His dribbling and passing from midfield has been great, and his goals are a bonus too.
Some very interesting answers for all Gills fans to mull over from the lads here, hopefully their thoughts will provoke some more debate amongst others.
Thanks to all for their time and input.
You can follow each of them on Twitter:
MG – @mike_gammon
RH – @Reece_GFC
TJ – @thomasAJ89
ZG – @Zachgarrard0906
UP THE GILLS!!