In life and with my sports – whether playing or supporting – I have always tried to err towards optimism rather than pessimism.
If there's a game to be won I would rather try to win it as opposed to try and not lose it. That's just my nature.
And if my teams are to get beat I would rather they fall on their sword instead of going down with a whimper. Football is the beautiful game after all.
However, to counter that, experience and over twenty years of watching and playing the game has taught me to also retain that sense of realism. And as the final whistle blew on today's home defeat to Shrewsbury, there sadly seemed to be a sense of inevitability engulfing the MEMS Priestfield.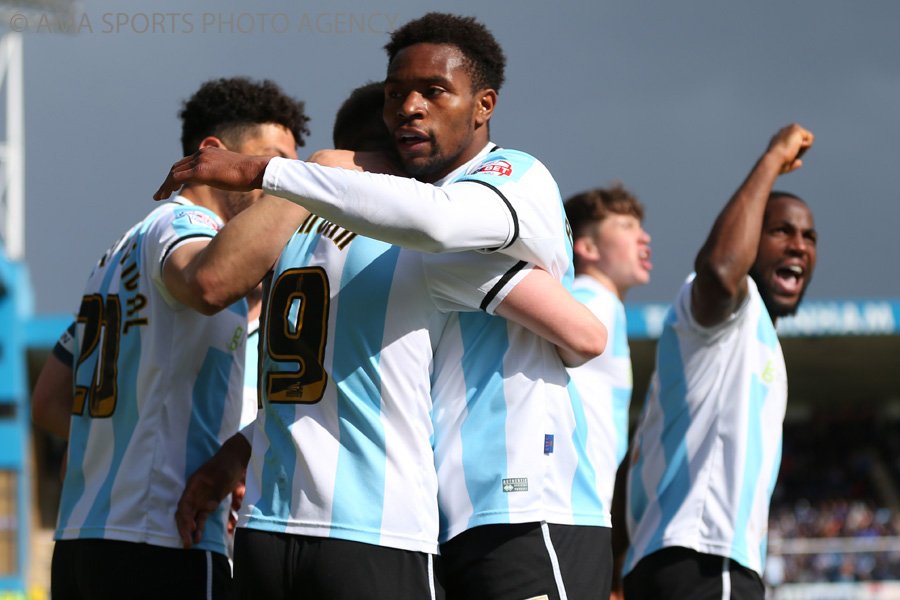 Have the Shrews killed off Gills promotion chances?
A sense that perhaps the chance had gone, the ship had sailed. The players sunk to their haunches or looked to the heavens for some sort of divine intervention, a resigned look across their faces.
Before we have been beaten, but there was still the conducting of the crowd, the hand clapping, the badge thumping and the fist clenching. That idea of yes we've been beaten but we will come back from it.
Today it was different, everyone looked done in, myself included. The applause seemed to be one of apology, or of quiet realisation, and as I sloped off into the evening having seen us concede three goals from three chances I was lost for words.
I literally couldn't fathom how we had lost another home game – one that we had dominated – our third on the spin.
A goalkeeping error, an overhead kick and a crude deflection.
Us, we hit the frame of the goal twice and watched the away stopper pull of save after save.
When the lucks not with you……
Clearly everyone will react differently, that's human nature. Some will scream and shout and berate anyone they can think of to anyone who will listen. That's fine.
I like to think I try to remain level headed through the highs and the lows, but today I myself also felt a sense of massive frustration, of bewilderment, of gut wrenching hurt that we may have blown this now.
And there's no getting away from the fact that we have, because at the turn of the year the only place we were looking was up, and right up until the Walsall defeat just eleven days ago we had never been lower than 4th in the table.
We are now 7th and need favours from other teams if we are to sneak back into the top six. And that is what it will be now, considering that results are hardly showing us to be pulling up trees.
Wigan heartbreak – the moment that ultimately defines our campaign?
Both momentum and confidence seem to be at a season low, which is such a massive shame, as a run of four wins from seventeen games since the Wigan defeat – a game which now looks to be the one that defines our whole campaign – on January 7th has seen us fade away and out of the Play Off zone.
Three defeat consecutive defeats at home – where we have been so strong for such a long time – have metaphorically killed us.
We have hit the proverbial wall.
As I said at the top of this piece, I am optimistic by nature, but I think it will take a pretty large change of form and luck now for us to extend our season beyond May 8th, because all the energy that was our hallmark during the first half of the campaign has gone.
Early season confidence has taken a bashing in recent months.
Everyone now seems to want an extra touch, or to play safe. Doing the very opposite of what made us so successful and so dangerous.
We are playing on the back foot, taking the safe option rather than grabbing games by the scruff of the neck.
We as supporters have a choice now, we can either stick by and applaud these youngsters for giving us what has generally been a cracking season, or we can risk battering their confidence further by playing a blame game.
All in it together.
By all means be frustrated and angry at a collapse that has been as spectacular as it has been devastating, and yes I know the players have to take the rough with the smooth, the criticism as well as the praise.
But they haven't deliberately started losing games or playing at a level lower than we became accustomed to, have they. It's one of those things that happens in football, and it's happened to players far greater than those in our squad.
Belief and confidence are a huge thing at any level of any sport, and ours has sadly taken a huge hit recently. One that we may now not recover from in time to rescue this promotion bid.
But now and moving forward we need to see how they react to this collapse, and we all need to stick together. Do that and I'm sure we will be fine.
Gutted, yes. Hurting, yes. Frustrated, yes. Angry, yes. Devastated, yes.
But fine.
UP THE GILLS!!