How had it come to this?
That's the question I have repeatedly asked myself over the last few weeks of this season. How had our beloved Gillingham Football Club got to the point where even a win on the final day may not have been enough to secure a Play Off berth.
Yes, a Play Off berth, a top six finish. For a team that not once had been out of the top four until the Walsall home defeat on Tuesday 12th April.
Or game 41 of a 46 game campaign. For the very same team that didn't fall out of the top six until game 45 of the same campaign.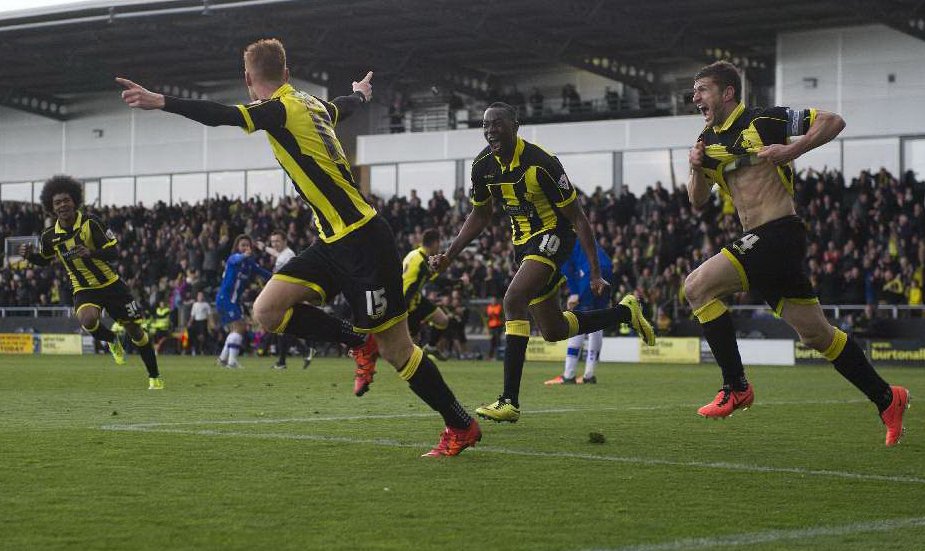 Burton's late winner pushed the Gills out of the top six.
But sadly we all know now that by then it was all too late, the damage already too severe to recover from, and in the end the final day defeat at home to arch enemies Millwall became an irrelevance as other results went against us.
Three points really would have been as effective as the none that we got with both Barnsley and Scunthorpe winning their matches.
How had it come to this?
As the dust settled on our fourth consecutive home defeat – the first time that's occurred since 2004 – there was all the talk from Justin Edinburgh that we had deserved better, that our performance had justified a point at least.
Perhaps it did, maybe it didn't, but by now it probably wasn't really registering with us fans as we all wondered what might have been.
Justin Edinburgh will surely look to learn from this season's late collapse.
Now don't get me wrong, Edinburgh has done a brilliant job in his time in charge, and I firmly believe he is the right man to keep taking us forward.
On the whole the approach has been very refreshing having had to put up with such dross towards the end of Peter Taylor's undistinguished second spell at the helm.
He has tried to get us on the front foot, and has tried to set us up to win games rather than to not lose them.
Perhaps in the end this slight naivety has been his and our downfall, because he said at the start of the campaign that this young squad would experience difficult periods and would have to learn from them.
Learn from things such as the no show at Coventry and the throwing away of two goal leads versus Walsall, Wigan and Doncaster which could have made such a vital difference.
That is fine with me, but he himself and his coaching staff have to learn as well, because the second half of the campaign has been very poor to say the least.
When results and performances started to take a turn for the worse things seemed to be all a little too reactive, and there seemed to be a lack of alternative plans to the 4-4-2 diamond that served so well during the opening months of the campaign.
We seemed to spend the closing weeks stumbling between the diamond and 3-5-2 system, chucking together a side more in hope than expectation.
Luke Norris was our sole goal scorer during a five game spell from the middle of March into April and then mysteriously was dropped for the home fixture versus Port Vale, not even getting on as we chased the game.
We even ended the season with square pegs in round holes – Deji Oshilaja at right back with Ryan Jackson only on the bench the prime example – which was very puzzling to the majority of fans.
Deji Oshilaja – a fine player, but not a right back.
Such a vast difference from the back to back wins at Millwall and Swindon over Christmas that saw us flying and even talking of a sustained title push, talk which was then backed up with home victories over Colchester and Bradford.
Since then we only won four of our remaining 21 games – drawing seven and losing ten – to slip right out of the promotion picture and only holding onto 9th place in the table on goal difference.
Stats provided by @experimental361, who can be followed on Twitter
How had it come to this?
To coin an old cliché, it really has been a game – or season – of two halves.
So let's not forget that, despite the deep disappointment of the last four or so months, there have been some wonderful lasting memories from our 2015-16 campaign.
From the opening day demolition of Sheffield United, to Bradley Dack's star shining brighter than ever, to Rory Donnelly's audacious lob during the thrashing of Fleetwood.
Gills 5 Fleetwood 1 – one of many highlights, especially in the opening months.
After that we were treated to Donnelly's last minute beauty at Crewe, to Emmanuel Osadebe's goal of the season at home to Bury, to the already mentioned wins over the Swine & the Wall in the space of seven glorious festive days.
As the obvious disappointment fades will all have our own personal favourites to look back on fondly.
Even during the more turbulent second half of the season there have been some fleeting moments of brilliance that kept us all going, kept us all believing.
Doug Loft's howitzer at Oldham, Luke Norris' overhead kick versus Walsall and the returning Cody McDonald's screamer versus Shrewsbury were all moments of brilliance in times of adversity.
Perhaps not important now in the grand scheme of things, but brilliant nonetheless.
And as long as the players and the coaching staff all learn from the second half of the campaign to improve for next season then there is no reason why we cannot have anther strong season in 2016-17.
But we do have to learn, as the form from January onwards has been that of relegation candidates rather than promotion contenders.
We will perhaps also have to cope without two of our best players from the last 18 months or so, as it looks like both Bradley Dack and John Egan will sadly being moving on to bigger things, which they both deserve based on their performances.
Pointing to the exit door? Both Egan and Dack look set to depart the club.
Yes, if back in August we had been offered the chance to go into the final day of the season with a hint of a chance of the Play Offs we would have taken it.
But expectations change as campaigns go on, and to have been where we were for so long and then miss out entirely is a massive underachievement in my humble opinion.
How had it come down to this?
However, it's done now and we cannot change it. What we have to do though is make sure the same mistakes aren't made again by the time August comes around.
And like you lot, I will once again be there, screaming and shouting, hoping and believing.
Because this is our beloved Gillingham Football Club.
UP THE GILLS!!