Overview
With the European Championships now just over two weeks away, there is something of an odd serenity about how the England build up is currently going.
As in any tournament summer, there are always the odd one or two players who seem to miss out through injury, and this years unfortunate pair are Stoke stopper Jack Butland and Arsenal front man Danny Welbeck.
Other than that though, there hasn't – as yet at least – been any outside distractions affecting Roy Hodgson or his players as the serious stuff approaches.
A slightly inflated squad – 26 that then needs to be whittled down to 23 – has been brought together to give the likes of Jordan Henderson and Jack Wilshere the opportunity to prove they are fit to travel after injury hit campaigns.
When doesn't Wilshere have an injury hit campaign I hear you ask?
A fully fit & firing Wilshere could be a big player in France.
Other than that though, we all seem  quite happy to just be concentrating on nothing else but the football, and debating which three should be left at home when Hodgson makes his call next Monday.
The Squad
Even though it will be reduced by three in time for the tournament proper, there is a sense of quiet optimism about the current England set up.
The disappointment of the 2014 World Cup was perhaps not such a bad thing after all, as the euphoria and over the top hype of tournaments gone by has been tempered more than ever so slightly.
However, that does not mean there is nothing to be excited about, and a perfect record in qualifying will back that up.
Yes we now have to translate that to the biggest stage of all – and improve on a record of just three wins in our last eleven tournament fixtures – but you can only beat what's in front of you, and we did that very well in getting ourselves to France.
The squad seems to have a more youthful exuberance about it than in recent years, and the hope is that this group of players will not be burdened by expectation or scarred by previous failings.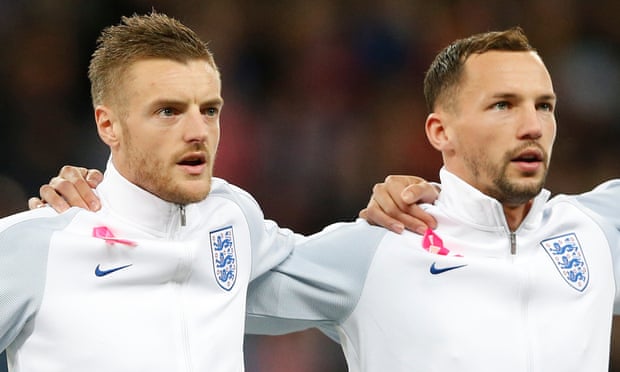 Title winners and Euro 2016 champions in the same year? These two probably think it is possible.
The likes of Nathaniel Clyne, Kyle Walker, Chris Smalling, Danny Rose, Eric Dier, Danny Drinkwater, Dele Alli, Adam Lallana, Harry Kane and Jamie Vardy are all coming off the back of impressive domestic campaigns, so can they now carry that momentum over for another month or so?
Add into that Daniel Sturridge, who's goalscoring record is as good as any when he is fit, and also maybe the unknown quantity that is Marcus Rashford, and there is certainly plenty of potential there.
Of course with a younger squad there is an element of risk – look at Tottenham's final four games of the league season – as to how they will react when the pressure is really on.
Therefore, the likes of Joe Hart, Gary Cahill, James Milner and Wayne Rooney – plus Roy, Gary Neville and the coaching staff – will all have a massive part to play in guiding the younger members of the team when the going inevitably gets tough.
Strengths
This current Three Lions squad has plenty of attacking options, to the point where it has actually been debated for months in the media that will a certain Wayne Rooney start?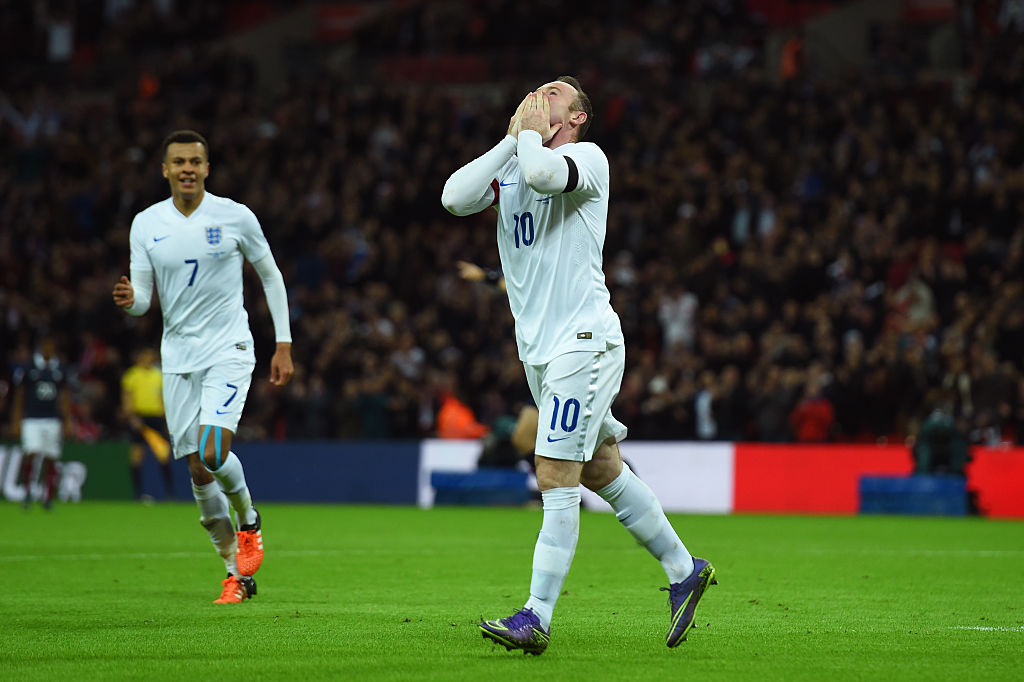 Wayne Rooney – still England's main man?
There is pace and creativity in abundance, and the likes of Vardy, Kane, Sturridge, Raheem Sterling, Andros Townsend  Ross Barkley, Alli, Wilshere and Rooney himself means we should have no trouble carving out chances.
Hodgson's biggest conundrum may be how to accommodate them into the same eleven.
Weaknesses
For a nation that has a proud history of top class centre backs, we are currently surprisingly short in this area, and how well we can hold it together may have a big say on how far we actually can go.
Chris Smalling has developed into a very good central defender in the last year or so, but is he top top class, probably not.
How the Three Lions would love a Tony Adams type right now.
Next to him it will be between Gary Cahill and John Stones, both who have had indifferent domestic campaigns.
How well those in front of them can protect them could be crucial.
Key Player
As I have already mentioned, protection for our back four could be massive, so Eric Dier will be pivotal.
He has excelled in shielding the Spurs defence this season, and due to his upbringing as a centre back, his natural instincts make him ideal for the role.
Eric Dier could be pivotal in either of Roy Hodgson's favoured systems.
His ability to drop in and make a three will be crucial – especially if Hodgson employs the diamond in midfield – as it will allow our two full backs to push on higher up the pitch and provide attacking width.
For me he should be one of, if not the first name on the team sheet.
How Far Can We Go?
Ah, that one burning question that gets asked every two years when an international tournament comes around.
So what's the answer?
Well obviously none of us know for sure, but having studied the draw I will stick my neck on the line and say that, with a little bit of luck, we could make the semi finals.
The draw has been kinder than in the last two tournaments – 2012 and 2014 – we have played in, so topping the group should be attainable.
After that it could be Turkey in the last sixteen, before a potential quarter final showdown with either our 2004 or 2012 conquerors, Portugal or Italy, either of which I feel would be beatable.
Obviously this is all just conjecture, and we all know that in this game things rarely end up as we have predicted – Leicester City's title triumph is a prime example of that – but my biggest hope for the tournament though is that we go out there and be brave and take games by the scruff of the neck.
I can see our matches being pretty open affairs, so entertainment shouldn't be in short supply.
All I ask England, is make us proud again!
**Please follow on Twitter @AFlatBack4, looking to interact with and follow fans of all clubs.